As MedTalks são sessões interativas com temas controversos e atuais, com oradores reconhecidos nas suas áreas! Disponibilizámos 6 sessões distintas para que possas escolher a que mais te interessa e assim aprofundar os teus conhecimentos.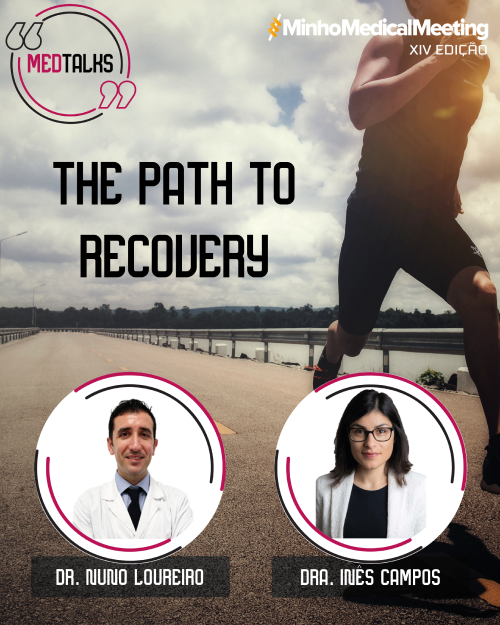 17 de dezembro
Tema: The path to recovery
🇵🇹: Tens interesse na prescrição de exercício físico como forma de tratamento e prevenção de lesões? Tens curiosidade acerca de como o exercício pode ajudar na recuperação de lesões traumáticas? Sempre quiseste saber como uma equipa médica de um clube previne e trata lesões dos seus atletas? Para te responder a estas e muitas outras questões, o Minho Medical Meeting apresenta te a primeira Medtalk da sua XIV edição. Nela estarão presentes o Dr. Nuno Loureiro, atual coordenador Médico do Sporting Clube de Portugal e coordenador da Unidade de Medicina Desportiva da Clínica Espregueira Mendes – FIFA Medical Centre of Excellence, e a Dra. Inês Campos, membro da direção do Colégio de Medicina Física e Reabilitação da Ordem dos Médicos e membro da direção da Sociedade Portuguesa de Medicina Física e Reabilitação. Mais uma sessão preparada para te permitir Redefinir(-te) (n)a Saúde!
🇬🇧: Are you interested in the prescription of physical exercise as a way to treat and prevent injuries? Are you curious about how exercise can help with recovery from traumatic injuries? Ever wanted to know how a club's medical team prevents and treats their athletes' lesions? To answer these and many other questions, Minho Medical Meeting presents the first Medtalk of its XIV edition.
This session will be presented by Dr. Nuno Loureiro, current Medical Coordinator of Sporting Clube de Portugal and coordinator of the Sports Medicine Unit of the Clínica Espregueira Mendes – FIFA Medical Center of Excellence, and Dr. Inês Campos, member of the Board of Directors of the College of Physical Medicine and Rehabilitation of the Medical Association and member of the board of the Portuguese Society of Physical Medicine and Rehabilitation. Another session prepared to allow Redefine (yourself in) Health!
17 de dezembro
Tema: The art of balancing medicine and everything else
🇵🇹: Uma verdade consensual: medicina consegue ser overwhelming e às vezes parece que não sobra tempo para mais nada. Mas isto não tem de ser assim! Nesta Medtalk trazemos-te dois oradores muito especiais (e que dispensam apresentações) para te ajudarem a gerir melhor o tempo e a lidar com o stress. Prepara-te porque depois desta sessão vais tornar-te num guru da produtividade.
🇬🇧: A consensual truth: med school can be overwhelming and sometimes it seems like there's no time left for you. But it doesn't have to be like that! In this Medtalk, we bring you two very special speakers (that don't need introductions) to teach about time management and dealing with stress. Get ready because after this session you'll be a productivity guru.
17 de dezembro
Tema: Picking up the pieces – The social and economic impact of the pandemic in Portugal
🇵🇹: Durante a pandemia, como já se adivinhava, o desemprego aumentou, trazendo consigo dificuldades económicas para muitas famílias portuguesas. Essas dificuldades arrastar-se-ão ao longo dos próximos anos? Quais serão as implicações da diminuição da capacidade económica na saúde das populações? Junta-te a nós para debatermos estas e outras questões, com a Doutora Susana Peralta e o Professor Francisco Ramos.
🇬🇧: During the pandemic, as expected, unemployment increased, bringing economic difficulties to many Portuguese families. Will these difficulties drag on over the next few years? What will be the implications of the decrease of economic power for the health of populations? Join us to debate these and other issues, with Dr. Susana Peralta and Professor Francisco Ramos.
17 de dezembro
Tema: 3 Systems, 3 Realities: How being a doctor differs around the world
🇵🇹: Achas que ser médico nos Estados Unidos é igual a ser médico em Portugal? Quais são os prós e contras de exercer medicina noutro sistema de saúde? Se queres saber mais sobre o exercício da tua futura profissão neste e noutros países junta-te a nós na Medtalk "3 systems, 3 realities: how being a doctor differs around the world". Aqui contaremos com o Dr. André Macedo, cardiologista nos Estados Unidos da América, o Dr. Francisco Mourão, pediatra em Portugal e o Dr. Nuno Grilo, urologista na Suíça, para uma conversa informal sobre três realidades distintas que certamente irão enriquecer a tua!
🇬🇧: Do you think that being a doctor in the United States is the same as being a doctor in Portugal? What are the pros and cons of practicing medicine in another healthcare system? If you want to know more about the exercise of your future profession in this and other countries join us at the session "3 systems, 3 realities: how being a doctor differs around the world". Here we will have Dr. André Macedo, cardiologist in the USA, Dr. Francisco Mourão, a paediatrician in Portugal, and Dr. Nuno Grilo, urologist in Switzerland for an informal chat about three distinct realities that in doubt will enrich yours!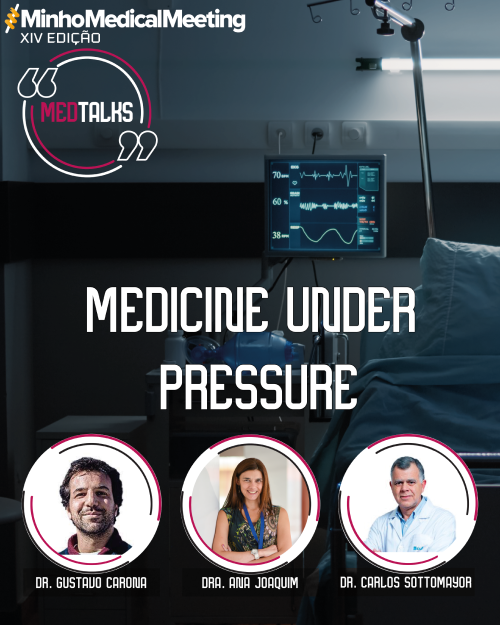 17 de dezembro
Tema: Medicine Under Pressure
🇵🇹: Já imaginaste como exercer medicina no meio de conflitos armados? De que forma é que esse estresse impacta o médico? De outro modo, mesmo em hipóteses em que o médico não está em perigo de vida, pode estar sujeito a um estresse emocional muito grande, nomeadamente lidar com situações em que os pacientes podem enfrentar prognósticos muito complicados, como em oncologia.
Para ouvirmos testemunhos de como os médicos lidam com esses diferentes tipos de estresse, e como isso afeta a sua prática médica, trazemos-te esta MedTalk "Medicina sob pressão", na qual se juntaremos o Dr. Gustavo Carona, médico humanitário, a Dra. Ana Joaquim, oncologista e atualmente pertencente à direção da Sociedade Portuguesa de Oncologia, tendo também praticado medicina interna, e o Dr. Carlos Sottomayor, que pratica oncologia e medicina interna.
🇬🇧: Have you ever imagined how it is to practice medicine in the midst of armed conflicts? How does this stress impact the physician? On the other hand, even in cases where the doctor is not in danger of life, he can be subject to a great emotional stress, namely when dealing with situations in which patients can face very complicated prognoses, as in oncology.
To hear testimonies of how doctors deal with these different types of stress, and how it affects their medical practice, we bring you the MedTalk "Medicine under pressure", in which we will join Dr. Gustavo Carona, an humanitarian doctor, Dr. Ana Joaquim, an oncologist and currently on the board of the Portuguese Society of Oncology, having also practiced internal medicine, and Dr. Carlos Sottomayor, who practices oncology and internal medicine.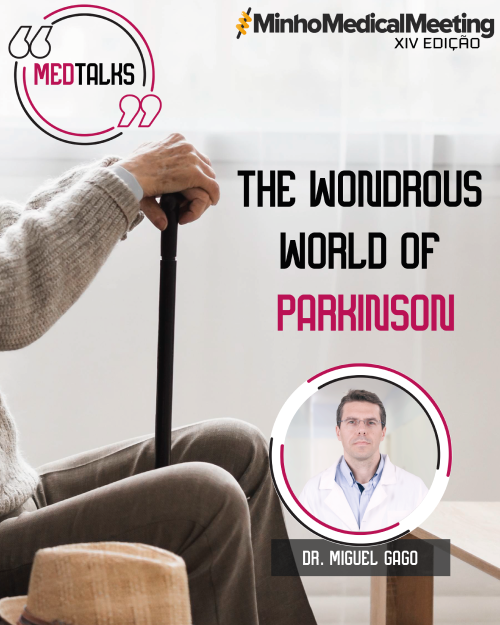 17 de dezembro
Tema: The Wondrous World of Parkinson
🇵🇹: Já pensaste que às vezes vivemos os nossos dias sem refletir que há pessoas que têm dificuldade em fazer as mais simples tarefas? Isto acontece, por exemplo, nos pacientes com Parkinson e de forma a explorarmos melhor o mundo de quem vive com esta patologia contamos com a ajuda do Dr. Miguel Gago, doutorado em controlo postural e da marcha nas doenças neurodegenerativas, investigador na área do Alzheimer e doenças de movimento e consultor de neurologia. Deste modo, presenteamo-vos com a Medtalk "The wondrous world of Parkinson", da qual se espera um diálogo com um paciente que apresenta este distúrbio.
Vem aprofundar os teus conhecimentos e redefinir(-te) (n)a saúde connosco!
🇬🇧: Have you ever thought that sometimes we live our days without reflecting that there are people who have difficulty doing the simplest tasks? This happens, for example, in Parkinson's patients and in order to better explore the world of those living with this pathology, we have the help of Dr. Miguel Gago, PhD in postural and gait control in neurodegenerative diseases, researcher in the field of Alzheimer's and movement disorders and neurology consultant. Thus, we present you with the Medtalk "The wondrous world of Parkinson", from which is expected a dialogue with a patient with this disorder.
Come deepen your knowledge and redefine (yourself in) health with us!